At Track Systems, we know some circumstances warrant an off-the-shelf solution — and then there are times where off-the-shelf just will not work. In addition to our roster of exceptionally built standard material handling equipment, we offer a variety of services to ensure we can work together in a mutually beneficial way. From engineering solution consultations and custom fabrication of products to partnerships with facilities across the U.S., Track Systems is committed to working with you as a partner, invested in your unique situation and ultimate success.
Whether you need to maximize available space in your warehouse, a flow rack with custom weight requirements, or a workstation designed for unique space requirements, Track Systems works closely with each client to meet specialized needs. No project is the same, and we strive to exceed your expectations.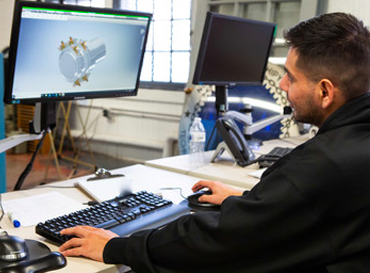 CUSTOM FABRICATION
With 40 years of custom fabrication experience in the material handling industry, we pull from hundreds of past engineering solutions to bring innovative and fresh ideas to the table to meet your needs creatively and affordably. We have helped teams across multiple industries, from retail to maintenance with custom retail store racks, guided vehicle tow carts, data center maintenance hubs, and more. Our technical team works alongside your team to recommend the best possible solutions.
ENGINEERING CONSULTATION & DEVELOPMENT
A thorough understanding of customer application expectations, short and long term, is our team starting point. A shared planning session coupled with site-visitation is a highly recommended first step. This type of meeting allows our team of engineers to build a solution based on client needs, the timeline of the project, the need for prototypes, stand-alone or integrated equipment, available funding, and more. Our goal is customer satisfaction and long term relationships — a true partnership.
FACILITIES & PARTNERSHIPS
In addition to our production facility in Illinois, Track Systems maintains contractual relationships with selected manufacturing organizations that meet our criteria for credentials, location, operations management, and customer service. This umbrella and combination of assets allow Track Systems to offer a highly comprehensive product mix with the promise of excellent quality control, ample technical support, and guaranteed on-time delivery.
FEATURED PRODUCT
This custom quad-steer cart was engineered and fabricated to meet a client's specific needs.  Here, Track Systems customized the product to meet the client's measurements and weight requirements, as well as customized the turning radius to navigate the tight turns and specific layouts of the manufacturing floor.